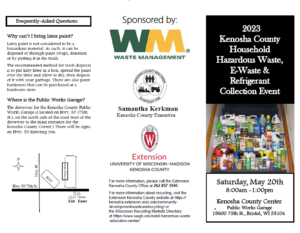 This year's Household Hazardous Waste Collection Event will be held on May 20.
Everyone who lives in Kenosha County – the city, towns and villages – can dispose of their household hazardous waste, e-waste and refrigerant waste by bringing their waste items to the Kenosha County Center, 19600 75th Street, Bristol, on Saturday, May 20, from 8 a.m. to 1 p.m. This is the only countywide household hazardous waste collection date scheduled for this year.
For more information regarding the Household Hazardous Waste, E-waste and Refrigerant Waste Collection Event, please visit Kenosha County's website at http://www.kenoshacounty.org or contact the Extension Kenosha County Office at 262-857-1945.