See conservation in practice at this year's prairie walk on Wednesday, June 13, 2018! Registration for the program starts at 8:30 AM, with a presentation beginning at 9:00 AM. A guided walk of the property will follow and conclude with a catered picnic lunch.
Location: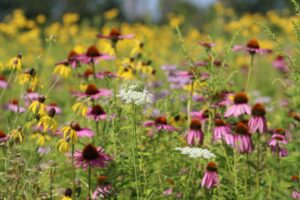 Century Oaks Farm
4111 Dyer Lake Road
Burlington, WI 53105
Hosted by property owner Tracy Layton
Theme:
Wetlands, Woodlands, and Wildlife
Special Guests & Speakers:
David Drake, UW-Extension Wildlife Specialist
Mark Steinfest, NRCS Area Engineer
Andy Jegerlehner, NRCS Engineer – Walworth, Racine, Kenosha, Milwaukee Counties
Mike Sieger, DNR Forester
Registration:
$15 per person (includes lunch & reference materials)
Please see the registration flyer for details, or register online via Google Forms at https://goo.gl/forms/zO4L4TdJLZ480Rrf2.
Rain or shine! Dress accordingly and bring a lawn chair or picnic blanket, water, and insect repellent!
More Information:
Leigh Presley
leigh.presley@ces.uwex.edu
(262) 857-1948; (262) 767-2905
Tom Oasen
tom.oasen@wi.usda.gov
(262) 723-3216 x 2; (262)-878-3353 x 2
This program is brought to you by USDA FSA & NRCS, Walworth County Land Conservation Division, UW-Extension, Kenosha County, Wisconsin DNR, and citizen members of the Walworth County Prairie Network.