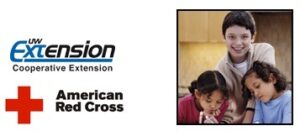 The Babysitter's Training course is fun and fast-paced with hands-on activities, exciting video, role-plays and lively discussions.  You'll learn to be the best babysitter on the block. Plus, you'll gain the confidence to make smart decisions and stay safe in any babysitting situation.
You'll learn how to:
Supervise children and infants
Perform basic child-care skills such as diapering and feeding
Choose safe, age-appropriate games and toys
Handle bedtime and discipline issues
Identify safety hazards and prevent injuries
Care for common injuries and emergencies such as choking, burns, cuts and bee stings
Communicate effectively with parents
Cool Take-Home Training Materials Help You Get the Job Done Right
At your Babysitter's Training class, you'll receive excellent materials to help you be prepared and professional, including:
Babysitter's Training Handbook—full-color handbook filled with great information and resources to use in class and on the job.
Babysitter's Training Emergency Reference Guide—this easy-to-carry, compact booklet provides step-by-step instructions to handle common emergencies.
Babysitter's Training CD-ROM—provides tools to run your babysitting business, including a babysitting organizer; a printable activity booklet with games, crafts, songs and recipes; a resume template; and more.
2019 Class Dates: July 17th and July 29th. 
Registration: You may register via online here or print, fill out and send the Babysitting Class Registration Form 2019 with a check payable to Kenosha County UW-Extension.
An EEO/AA employer, University of Wisconsin Extension provides equal opportunities in employment and programming, including Title IX and American with Disabilities (ADA) requirements