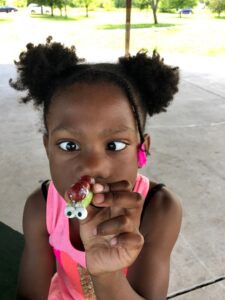 In the summer of 2017, with support from The City of Kenosha, the Kenosha Public Library spearheaded an initiative through Kenosha Park Alliance to establish a summer parks program for youth. Lincoln Park, Hobbs Park and Roosevelt Park collaborated with various community agencies to provide enrichment programming.
The UW-Extension FoodWIse nutrition education program taught a 6-lesson series entitled, Choose Health: Food, Fun & Fitness. Games and physical activities helped children learn about MyPlate food groups, food safety, reading nutrition fact labels and the importance of breakfast. Students eagerly created and tasted healthy food and snack samples such as chili lime jicama sticks, fruit smoothies, "veggie bugs" and breakfast parfaits.
Pre-post education survey data of students at the park sites showed that after the lessons students had improved their overall dietary quality by 75%. 50% of students at Roosevelt Park improved their food safety while 60% of youth were more likely to ask their family to buy their favorite fruit or vegetable.
UW-Extension FoodWIse would like to congratulate the Kenosha Public Library for winning the 2017 Power of Libraries Award for The Kenosha Summer Parks Program and we look forward to continuing our partnership into the summer of 2018.
CHECK OUT the Power of Libraries video award given to KPL for the summer parks program.