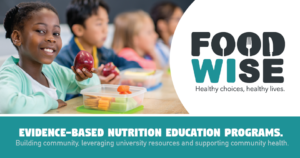 Racine and Kenosha FoodWIse Program
The FoodWIse mission is to advance healthy eating habits, active lifestyles, and healthy community environments for low-income families through nutrition education at the individual, community, and system levels.
FoodWIse provides interactive nutrition and food safety workshops that are available in English and Spanish for learners of all ages.  Families will learn how to save time and money by learning how to plan healthy, tasty meals, shop smarter, feed picky eaters, and reduce food waste. Classes are free to those eligible for WIC or FoodShare.
The Kenosha/Racine FoodWIse office is located at:
1220 Mound Avenue Suite 101 (located inside of Acelero Learning) Racine, WI 53404
(262) 635-6824