Cultivating Healthy Communities
Our Healthy Community Coordinator works in coordination with local agencies to address diet-related disparities by contributing to advancing healthy PSE: Policies, Systems, and Environmental changes. 
How Community Partners Can Work With Us for PSE Change!
The goal of any PSE effort is to make the healthy choice the easy choice for all community members, especially those with limited incomes. We have the ability to be flexible and creative to meet our community partner's needs, so if you have a project in mind and are looking for collaboration, connect with us! Click here to read up on some of our past PSE projects!
We currently have a handful of research-based PSE programs
YOU CAN REACH OUT
about:
Discover Wisconsin Farmers Market 

Allow FoodWIse educators to host educational tours at your farmers market using a research-backed curriculum where we demonstrate how to utilize food benefits at the market, increase comfortability navigating the market and have fun! If you're interested in learning how to use your Quest card at the market, click here! To find out which farmers markets accept WIC, EBT/SNAP, or offer the Double Dollar program, click the following documents for Racine or Kenosha, available in English and Spanish.

Growing Together

Safe & Healthy Food Pantries

Allow us to help train pantry volunteers on safe food handling practices, understanding expiration definitions and how to encourage healthy food choices. We also can provide printed resources such as posters and recipes to encourage pantry clients to make healthy choices for themselves and their families! Let us support you in making your pantry safer AND healthier! Reach out to learn how you can gain full access to the tool kit today!

Harvest of the Month

We provide your organization promotional and educational materials to showcase seasonal vegetables and fruits. We support activities and education related to vegetables and fruits which ultimately encourages kids and families to eat more fruits and vegetables. This tool can be used at schools, worksites, farmers markets, and more!
Click here to learn more about past PSE efforts the FoodWIse team has taken on!
Reach out to our Healthy Communities Coordinator, Amy Macemon, to talk more about how UW-Extension FoodWIse can help support your PSE goals! Email amy.macemon@wisc.edu or call at 262.635.6824.
What Is PSE You Ask?
See the two infographics below!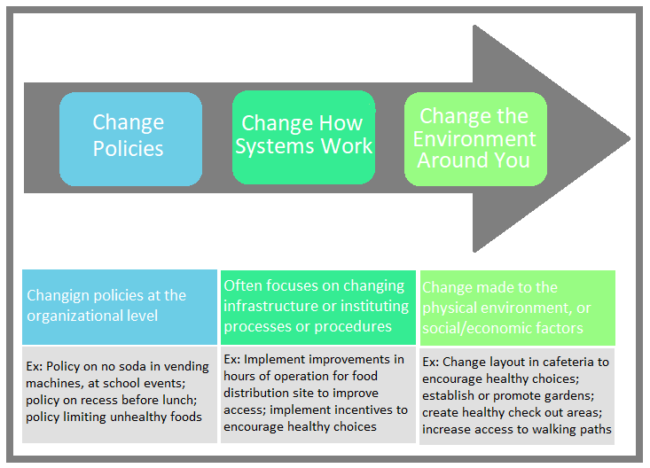 Another way to view PSE work is through the lens of the socioecological model which "…suggests that an individual's health is determined not only by their biology and individual choices, but also the community they live in, the systems they interact with, and the societal norms that shape their realities."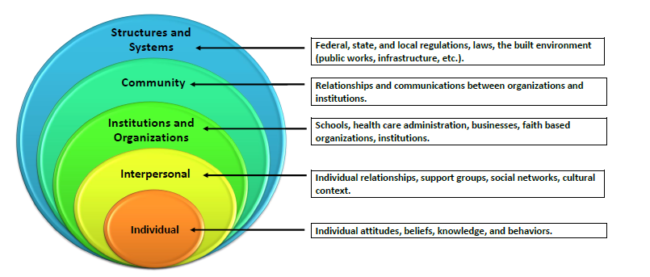 The Social Ecological Model. Image credit: CDC.gov
Reach out to our Healthy Communities Coordinator, Amy Macemon, today via email amy.macemon@wisc.edu or phone 262.635.6824.