Our Healthy Community Coordinator works in coordination with local agencies to address diet-related disparities by contributing to advancing healthy PSE: Policies, Systems, and Environmental changes. 
How Community Partners Can Work With Us for PSE Change!
The goal of any PSE effort is to make the healthy choice the easy choice for all community members, especially those with limited incomes. We have the ability to be flexible and creative to meet our community partner's needs, so if you have a project in mind and are looking for collaboration, connect with us! Click here to read up on some of our past PSE projects!
We currently have a handful of research-based PSE programs
YOU CAN REACH OUT
about:
Click here to learn more about past PSE efforts the FoodWIse team has taken on!
Reach out to our Healthy Communities Coordinator, Amy Macemon, to talk more about how UW-Extension FoodWIse can help support your PSE goals! Email amy.macemon@wisc.edu or call at 262.635.6824.
What Is PSE You Ask?
See the two infographics below!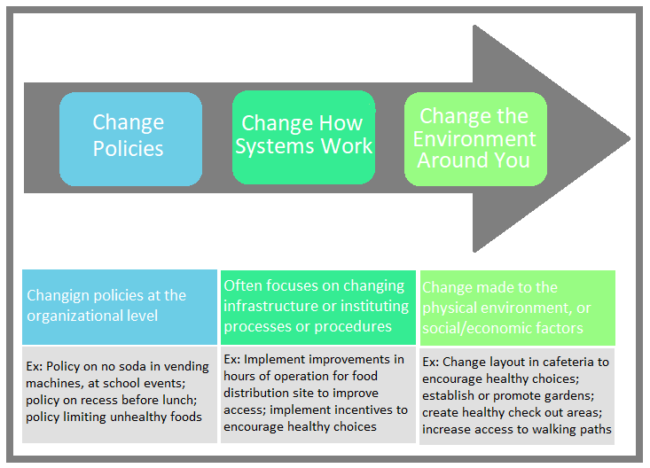 Another way to view PSE work is through the lens of the socioecological model which "…suggests that an individual's health is determined not only by their biology and individual choices, but also the community they live in, the systems they interact with, and the societal norms that shape their realities."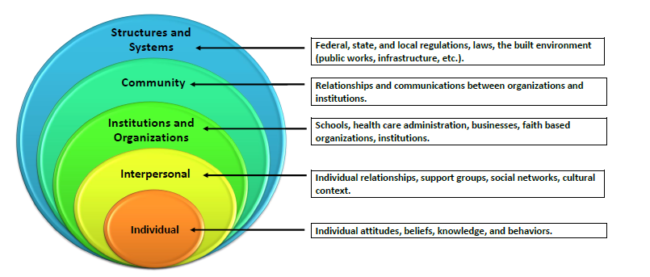 The Social Ecological Model. Image credit: CDC.gov
Reach out to our Healthy Communities Coordinator, Amy Macemon, today via email amy.macemon@wisc.edu or phone 262.635.6824.